Fighting for Compensation for Car Accident Victims In Illinois
If you were involved in a serious car accident, the  car accident lawyers at Howerton, Dorris, Stone, & Lambert may be able to help. Since 1932, our firm has been a reliable source for help to residents of Southern Illinois. We fight insurance companies on behalf of our neighbors to obtain fair compensationwhen they have been hurt. By understanding the strategies these companies use to deflect blame, the team at HDSL can help clients prepare effective strategies that succeed.
Is Illinois a No-Fault State?
Illinois is not considered a no-fault state, but instead follows "comparative negligence" when it comes to deciding who is legally responsible for causing an accident. This means that you may be entitled to financial compensation based on the percentage of fault that is pinned on the other driver.
How to Prove Negligence in a Car Accident
To obtain any compensation for a car accident, personal injury victims must prove that the other party was responsible for the damage. Since it would be counterproductive to sue another party when both drivers were equally at fault, Illinois state law requires that plaintiffs prove over 50% fault on the part of the other driver in order to obtain any compensation for damages.
As in any negligence case, you must be able to prove:
Duty

 

– The other driver had an obligation to drive safely
Breach of duty

 

– They failed to fulfill their obligation to safety
Cause in fact

 

– The defendant's unsafe driving caused harm
Proximate cause

 

– There would have been no harm had this person not been driving irresponsibly
Damages

 

– Plaintiff suffered actual injury or loss because of this unsafe driving
If the defense is able to prove any fault on your part, that percentage of fault will be deducted from the damages awarded. Insurance companies have been known to play dirty when minimizing a victim's injuries and property damage.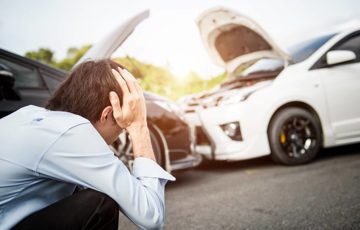 Get Started with HDSL Law Firm